Design
The Best Graphic Design Software Of 2021
October 30, 2020 | 0 min read
Graphic design, to a great extent, is heavily dependent on the software in use. Using the right software will multiply your creativity massively, whether you are an inexperienced graphic designer or an accomplished visual artist. The best graphic design software offers easy controls and versatility that an amateur can easily grasp, but also offers an advanced user with vastly better resources.
For artists, technology is an enhancement of their creative skills. They memorize keyboard shortcuts, familiarise themselves with interfaces, and treat their favorite applications as a second language in general. It's necessary to have an extremely customizable program.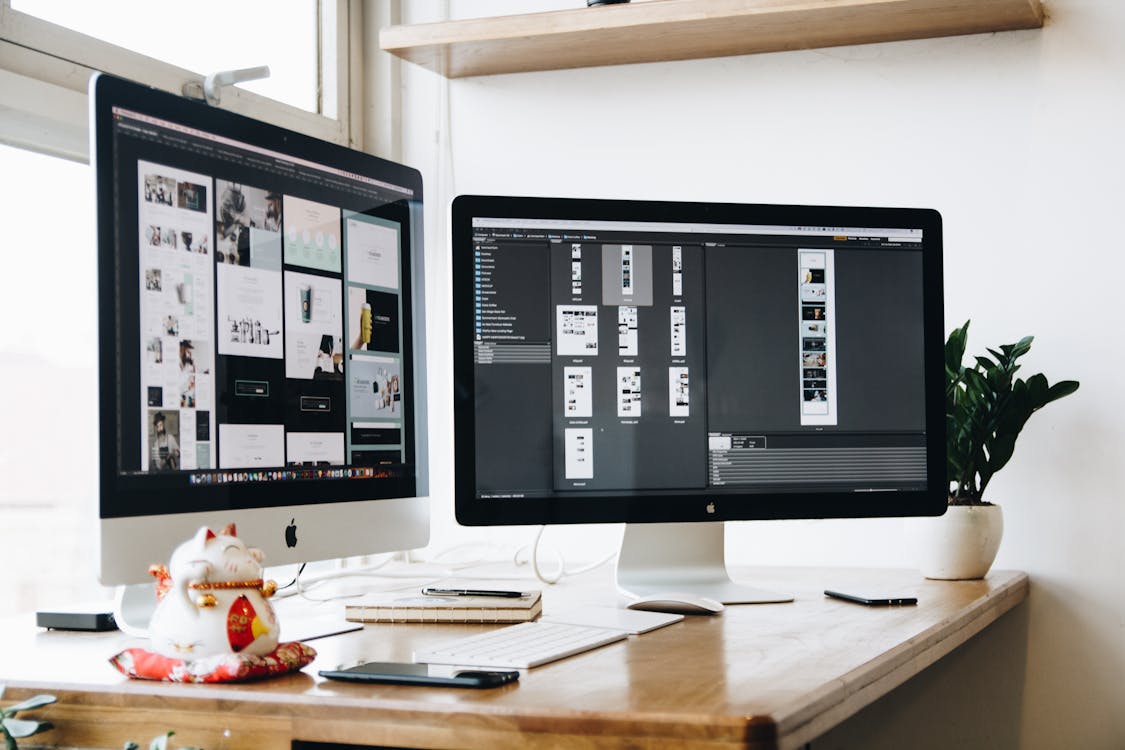 We've researched and compiled a list of today's best graphic design tools in the industry. These techniques are tried and tested and will assist you in producing stunning custom designs that will leave your customers awestruck.
Get ready to express yourself with simplicity and productivity in amazing new ways and produce astounding digital art!
Here's a list of the top 16- graphic design softwares of 2021
1. Adobe Photoshop
Adobe Photoshop is undoubtedly the most influential graphic design program and is utilized around the world by thousands of designers. This finest graphic design software will do it all for you, whether you are trying to create banners, flyers, blogs, or logos. Adobe Photoshop has software for every stage, from little edits to complex designs.
It can be used on Mac and Windows operating systems.
2. Sketch
One of the best graphic design softwares for mac users, Sketch focuses primarily on digital design. Sketch is often used to build websites, applications, and interfaces. Unlike Photoshop, Sketch is not designed for printing or photo editing. With Sketch, you can develop a program by working on the site itself with other designers. The software has an intelligent design function in which, depending on the content, the part will instantly resize.
It will run on the Mac operating system.
3. Adobe Illustrator
Adobe Illustrator is a program for illustration based on the design of vectors. You can make graphics, logos, posters, etc. and it is possible to use the designs made with Adobe Illustrator on business cards or banners and 8k displays from smartphones. To produce something amazing, you can use this app to sketch, combine, and modify designs. Adobe has created a smartphone edition called Adobe Illustrator Draw, which is one of the best applications out there for graphic design.
It can be installed on Mac and Windows operating systems.
4. Affinity Designer
One of the best graphic design software to work as one of the most reliable and affordable substitutes for an illustrator is Affinity Designer; appropriate for someone who is in the initial point of a career in design. The app is known to run seamlessly, which will boost your efficiency and allow you more freely express your imagination. At 60fps, you can switch and zoom your artwork; see live changes in gradients, effects, and adjustments along with transformations and curve edits. It can run on the operating systems of Windows, iPad, and Mac.
5. Adobe InDesign
Adobe InDesign is another Adobe program that can be used to produce designs and that works as a graphic design software. In the publishing world, this graphic design software is mostly used because you can create magazines, relevant documentation, books, posters, engaging PDFs, leaflets, etc. with it.
Incorporated into InDesign, the Sensei technology makes the image layout and resizing efficient. This graphic design program can be easily mastered by newbies because it has a fast learning process.
It can be used on Mac and Windows operating systems.
6. CorelDRAW Graphics Suite 2019
Initially, CorelDRAW was only designed for Windows OS; it is now also accessible for Mac. You can make high – quality vector diagrams with this graphical design software. To help you work more efficiently and smartly, there are useful design tools. If you are working on branding, web design, or printing projects, you can find various customization choices. To provide you with LiveSketch, which transforms sketching into accurate vector curves, CorelDRAW now uses AI technology. The suite includes both graphic design and layout tools. For photo editing and font control, it has Photo-Paint and Corel font developers. Also, the file accessibility is enormous; over 100 file formats are supported by the software.
It can be used on Mac and Windows operating systems.
7. Xara Designer Pro X
For both bitmaps and vectors, Xara Designer is developed. Desktop printing, graphic design, animation, photo editing, all in one location, can be done by the software. To get you going easily, the graphic design program offers you with thousands of sample graphic design templates, design elements, and over a million stock images. While designing any shape, lines, or cycles using vectors, when you scale it up, you would not face any loss in quality
It can be used on any operating system running Windows.
8. GIMP
GIMP is another one of the best graphic design softwares that also runs on many platforms, such as Windows, Linux, and Mac OS. GIMP is an open-source program that allows you to modify and share the program with its source code. It is also possible to use GIMP to restyle images, where imaginative materials can also be made. It is also possible to design interface components and sketches, along with print designs like images and logos.
And can be used on operating systems running Windows, Linux, and Mac.
9. Gravit Designer
This is another free app for graphic design that can be used to build templates based on vectors. This software helps you to create logos, edit images, and create diagrams and animations. In the free plan, Gravit does not have an offline edition. The app is adjustable as per the needs of the user.
It can be utilized on operating systems like Windows, Mac, Linux, and Chrome OS.
10. Inkscape
Inkscape offers multi-functional uses, like many other sites. Designers, illustrators, or web designers may make use of it. The software has versatile drawing tools, making it easy to grasp the software and create art without difficulty for beginners. Inkscape has a strong text tool at your side, as the text is an important part of graphic design. The software is open-source software and can be used on any device.
It can be practiced on operating systems running Windows, Linux, and Mac.
11. Vectr
If you are looking for the best and free graphic design software to build vector graphics, Vectr is your pick! These generated vectors, when scaled, will not lose their quality. To build the pattern, Vectr does not use pixels; it utilizes mathematical formulas. This free program for graphic design is available both online and for desktop use. Vectr offers you a tool that is easy to use and can be used to design any 2D graphics. It can include company cards, banners, posters, brochures, etc.
It can run on the operating systems of Windows, Web Browser, Linux, Mac, and Chrome OS.
12. Canva
If you don't have any prior design skills and you are searching for something really easy, then Canva is for you. This free program for online graphic design enables you to easily and quickly build layouts. There are several models and pictures of fonts, all of which are free to use. Canva operates on the principle of drag and drop, where you only need to pick the elements and drag and adapt it to your workspace and address the design needs of a novice who does not want to get into the process of studying and buying premium software.
It can be run on the Web Browser, Android, and iOS operating systems.
13. PixTeller
PixTeller is a quick-to-use editor tool that enables graphic images (available for download in PNG, JPG, PDF format) and animations (downloadable in MP4, GIF format) to be created. Anybody can use it with little technological or design experience to create pictures, animated gifs & videos for individual or company use.
It will run with any Web Browser.
14. Design Wizard
Design Wizard is an online tool for graphic design that begins with free pricing and increases along with features. This graphic design software offers users more than a hundred designed images.
Any Web Browser will work with it.
15. Infinite Design
This graphic design software is only designed for Android devices that can be used for vector graphics development. Without much effort, the software can be used to make powerful and eye-catching designs. This app includes, as the name suggests, an infinite canvas where you can zoom, pan, or rotate. This application also offers functionalities such as translation, scale, flip, distortion, etc.
It can run only on the Android operating system.
16. Adobe Comp
Adobe Comp is another most-liked and one of the best graphic design programs, intended to be used with Photoshop, Illustrator, etc., along with many other Adobe applications. Through the use of font and patterns, designs can be made. You can turn your raw designs into sleek graphics with Comp and complete the designs with other Adobe software on your desktop.
It can be used on operating systems running iOS and Android.
Closing thoughts-
Technology for graphic design was challenging to use in the early days. Innovation has come a great way, and software is now automatic and allows a user to more easily show creative thinking. It will rely on your job and what you want to do with the program to choose the right platform.
However, it's not necessary to just follow any guide. You will need to come up with new ideas, find your style, and sort out in an effective manner possible to show your work.
The Best Graphic Design Softwares FAQs
1. What is a good graphic design?
Good Graphic Design Elements are the sections or aspects of a piece of art or design. To put it more clearly, they are the elements of art. Take one key component color scheme, a bit of texture, and a whole lot of style and the outcome will be some excellently designed graphic design.
2. Is graphic design hard?
Studying graphic design is not that challenging if you are at least capable of craft, design, and imagination. But still, it does take time!
3. What is the most famous logo in the graphic designing world?
Here are some of the most legendary logos of all time:

Starbucks
McDonald's
Apple
Mercedes
Coca-Cola
SUBSCRIBE TO OUR BLOG
Get a snack packed with valuable info right inside your inbox.